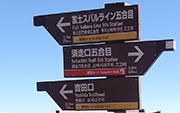 2021.07.02
Mountain Trails
Four Trailheads and Ascending Trails
There are four trails that lead to the summit of Mt. Fuji.
Each trail has its own trail head as the starting point.

Yoshida Trail Head : Fuji-Subaru Line 5th Station

Subashiri Trail Head : Subashiri Trail 5th Station

Gotemba Trail Head : Gotemba Trail New 5th Station

Fujinomiya Trail Head : Fujinomiya Trail 5th Station
Uniform Signs on the Trails
On Mt. Fuji, signs on the trails are coordinated in inscription, design, and color.
Four trails are color-coded with respective colors indicated on signs. Remember the color of your trail and take care not to follow trails of any other colors by mistake.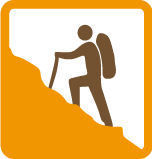 Yellow:Yoshida Trail
Red:Subashiri Trail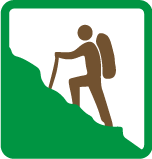 Green:Gotemba Trail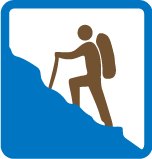 Blue:Fujinomiya Trail
Trail Identification
Each trail has its own characteristics. Choose the one that suits you best.
Yoshida Trail
Subashiri Trail
Gotemba Trail
Fujinomiya
Trail
Altitude of Trail Heads
2,300m
2,000m
1,450m
2,400m
Time
Ascent
6h
6h
7h
5h
Descent
4h
3h
3h
3h
Trails for Ascent and Descent
The trail for ascent is completely different from the trail for descent.
In the section between the 8th station and the summit, trails for both ascent and descent are the same as those of the Subashiri Trail.
The trail for ascent is different from the trail for descent. In the section between the 8th station and the summit, trails for both ascent and descent are the same as those of the Yoshida Trail.
The trail for ascent diverges from the trail for descent midway.
The trail for ascent is the same as the trail for descent.
Inclination/Topography of Trails
Zigzag path on relatively flat ground surface up to the 7th station.
Slightly rocky beyond the 7th station.
Relatively gently sloped and tree-covered up to near the 7th station.
Gentle slope of volcanic gravel up to near the 8th station.
Generally very rocky and steep.
Availability of Mountain Huts
Many mountain huts on the trail for ascent.
None on the trail for descent.
None on the trail for descent below the 8th station (mountain huts on the ascending trail are accessible from the descending trail).
Only a few.
None in the section between Oishi-Chaya (near the new 5th station) and the 7th station.
There are mountain huts at every station
Access to Trails
Mountain bus from Kawaguchiko and Fujisan Stations.
Mountain bus from Gotemba and Shinmatsuda Station.
Mountain bus from Gotemba Station.
Mountain bus from Mishima, Fuji, Shin-Fuji and Fujinomiya Stations.
Passenger Car Traffic Controls
In place.
During the control period, shuttle bus is available from Hokuroku Parking Area.
In place.
During the control period, shuttle bus is available from Subashiri Multi-purpose Square Parking Area.
No.
In place.
During the control period, shuttle bus is available from Mizugatsuka Parking Area.
Facilities at Trail Heads
Many shops. Information office & public toilets at the 5th & 6th stations.
Two shops &
public toilets.
Shops, temporary information office & public toilets.
One shop, information office & public toilets.
Congestion on Trails
Crowded (crowded beyond the 8th station, where it joins the Subashiri Trail).
Partially crowded (crowded beyond the 8th station, where it joins the Yoshida Trail).
Not crowded.
Crowded.
Number of Climbers
(2019 Summer)
149,969 people
20,215 people
12,230 people
53,232 people
Aid & Rescue System
First-aid centers at the 5th, 7th and 8th stations.
No first-aid centers.
No first-aid centers.
First-aid centers at the 8th station.
More Details
More
More
More
More